Today I'd like to discuss a writer named Raymond Carver. Are any of you familiar with his short fiction? He's an American author who lived in the state of Washington and passed away in 1988. His short stories are quite compelling. His subtle use of language is mesmerizing and he uses it to describe the human condition in fascinating ways.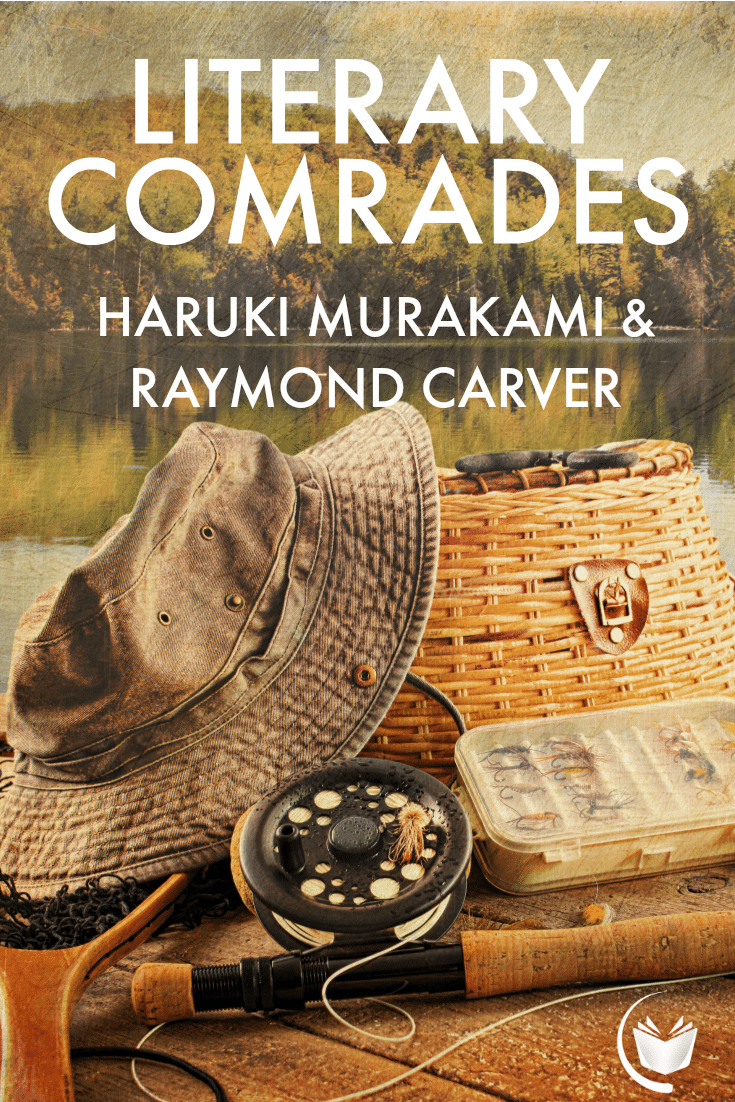 One of Carver's short story collections (named after a fantastic story within the collection) is called, "What We Talk About When We Talk About Love." Does that title sound familiar? Haruki Murakami asked Carver's wife, Tess Gallagher, if he could honor Carver by titling his own memoir, What I Talk About When I Talk About Running. Murakami was one of Carver's translators and they were friends, or "Literary Comrades," as Murakami wrote in a tribute to Carver.
In a recent article about a meeting that took place between Carver and Murakami, the author of the article mentions how Murakami wanted to meet Carver after reading the short story, "So Much Water So Close to Home" in 1982. Upon reading this, I had to investigate. I wanted to uncover the source this author references to learn more about this magical meeting of two great literary minds. Surprisingly, it was Murakami himself.
In a tribute written to Raymond Carver after his death called Remembering Ray, Murakami writes an essay called, "Literary Comrades." In this essay, he details what led up to their meeting and describes his very sincere appreciation of Carver's work. Murakami explains the height to which his appreciation reaches, "Through reading books–and later through translation–I studied the art of writing fiction. Or rather, I learned to recognize what constitutes great fiction. And, in this sense, Raymond Carver was without question the most valuable teacher I had and also the greatest literary comrade."
In the year 1982, Murakami first came across that short work of fiction by Carver. He explains this encounter as follows: "this story literally came as a shock to me. I felt just as if I had been out leisurely walking along on a sunny, cloudless afternoon when suddenly lightning struck." and felt the story "Although his style is fundamentally realistic, there is something penetrating and profound in his work that "goes beyond simple realism."
Our Reading Beyond Murakami community cracked open this story a few weeks ago. I thought it would be fun to read the short story together as a sort of precursor to our next course on Murakami & Magical Realism. You can access the full story online HERE or it's a part of Carver's previously mentioned collection titled, What We Talk About When We Talk About Love.
The story will probably take you 10-15 minutes to read and will haunt you for the rest of the week, maybe two. After you read it, come back and read our discussion questions below. Feel free to comment below and share your thoughts or answers. I can't wait to read them.
"So Much Water So Close to Home"
What might the title, "So Much Water So Close to Home" symbolize?
Why did these four men decide not to return right away to notify the sheriff about the girl's death?
"So much water so close to home. I say, 'Why did you have to go miles away?'"
When Claire and her husband go for a ride and he tells her a few times she's going to get him riled after mentioning murders from her past, she narrates, "He tries to concentrate on the road. But he keeps looking into the rear-view mirror. He knows." What does she think he knows?
To what extent does this girl's death contribute to the distance separating Claire and her husband?
Why does Claire decide to go to the girl's funeral?
After Claire's husband finishes his drink and reaches his arm around her waist to make a sexual advance, she narrates, "He says something else. But I don't need to listen. I can't hear a thing with so much water going." What might this mean in relation to the narrative?
Bonus Question for the Murakami Lover
In "Literary Comrades," Murakami explains how someone told him the beginning of Raymond Carver's "Put Yourself in My Shoes" was similar to Murakami's "The Windup Bird and Tuesday's Women." The connection is ever so subtle, and Murakami explains it was unconscious. I suspect there is another ever-so-subtle moment between Carver's "So Much Water So Close to Home" and Murakami's "Birthday Girl." Do you know what it is?
Raymond Carver's Ode to Haruki Murakami
Last but not least, you can check out the poem, "The Projectile" that Carver wrote about the meeting that took place between Murakami and Carver. I'd love to hear your thoughts. You can read the poem in full HERE.
Would you like to keep up with our Reading Beyond Murakami community? You can sign up for our newsletter here.
Reading Beyond Murakami
A new course series starting in early 2017 takes readers, fans, and students of Haruki Murakami even deeper into his mind-bending worlds one novel at a time.
To keep current on all the courses we offer and find out when enrollment opens, subscribe to our Reading Beyond Murakami newsletter.
When you join, you'll receive a copy of our free eBook, "A Haruki Murakami Reading Guide."