Being someone's mom is hard. They need you. A lot.
My husband and I prayed for years that having a family would be a part of our future. But what I didn't realize is how much would change. I mean, if you asked me, I would have told you everything would be different, but it was in that vague-I-have-no-idea-what-I'm-talking-about kind of way.
I still teach English at the college level, but I'm going on my third semester teaching online if you count my summer school class. I really, really miss the classroom and the relationships I build with my students within those four white walls under that harsh lighting. Even still, the relationship I am building with my son is like nothing I have ever known.
My field is English, so naturally, there is a never-ending to-be-read list that I try to put a dent in everyday. I used to read for 10-12 hours a day. Over the last eight months, I've had to grieve for my old reading life. Now this may sound strange to some of you, but it's really eye opening for me.
I suspect other moms feel something similar when they decide to stay home with their kids instead of working, or even working at home instead of going to the office. Just because that is the best decision for their family doesn't mean it's easy.
God calls us to different jobs at different times in our lives. He also commands us to be joyful, not just content, in our circumstances. It's only natural that we would feel sad about losing the joy we had in our former circumstances, even if we are completely in love with being someone's mom.
So with all this change, I find myself completely overcommitted, because once again, I didn't know how much time I wouldn't have. And now I read about half as much as I used to, maybe even less, and I actually think that is pretty good, all things considered. And please keep in mind, pleasure reading and professional reading are synonymous in my eyes. No matter how you look at it, reading is part of my job.
I want to shed light on the few ways I have found work best to fit in reading a few pages at a time as a new mom, but this is not to suggest I have it all figured out. You might be able to apply some of these tips to whatever hobby you miss and makes you-you.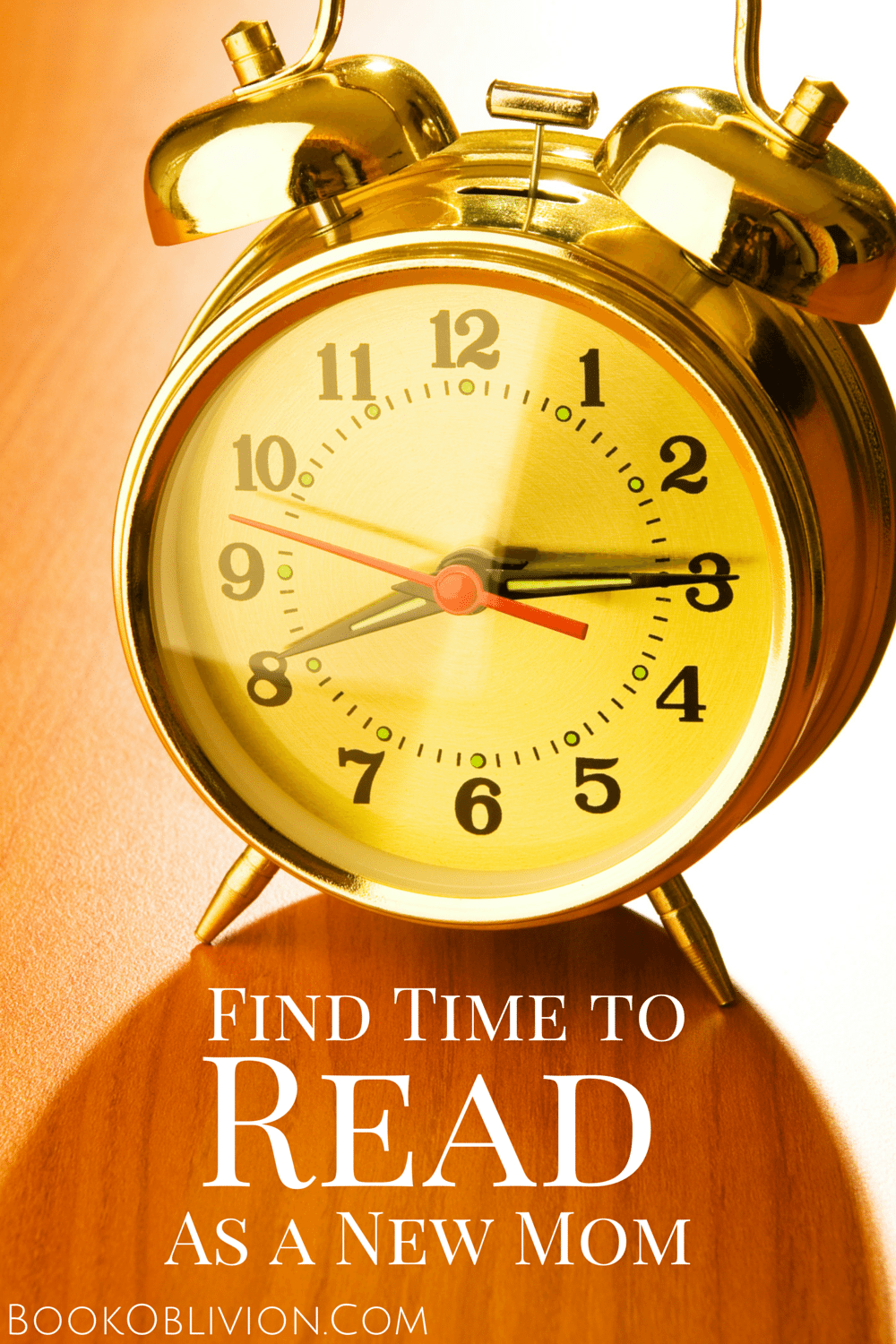 Read while nursing.
I nurse my son to sleep. I only pull out my phone (for Kindle) or my actual Kindle after his eyes are closed and he's well on his way. This is partly for the bonding, but more practically, it's because if he looks up at me and sees the bright reflection of a screen in my iris, he stops eating and will immediately look for the screen. Babies are clever.
I can usually read a chapter of whatever book I have going while he falls asleep. It's only about 15 minutes before he's in his deep-I-won't-wake-up-when-she-puts-me-in-my-crib kind of sleep. This reading time adds up.
Read during naps.
I pooled my Facebook friends for tips on how to work from home with a newborn and all of them told me to figure out how to work while my little one naps. A few months back, this wasn't an option, because if I left him (even after the 15 minutes-deep sleep thing), he'd wake up and cry. He needed held or a warm body all the time.
A person can only function for so long at that level, so we finally sleep-trained him. Instead of using his naps to do housework or work for my online course, I use them to read. So that means I get 2-3 hours of concentrated reading a day. I am really grateful for this. It's part of what keeps me fed intellectually, emotionally, and most important, spiritually.
Read to your child.
About a decade ago, I remember learning about how my favorite preacher, Art Azurdia, used to sing hymns on the treadmill to build up his speaking stamina. He is one of the most incredible orators I have ever heard. And I don't sing, but I did start reading aloud on the treadmill as a result. Reading aloud is something I have been doing for a long time, and as a teacher and someone who regularly speaks and reads passages of literature or essays in front of people, it's a great skill to have. In addition, it helps you build up your speaking stamina.
I now read aloud to my son. Not only do I read children's books to him, but I regularly read him what I'm reading. Over the last eight months, he's heard significant portions of Paradise Lost, Fight Club, House of Leaves, and whatever article I am reading at the moment. When he was younger, he loved just listening to the sound of my voice. Now he crawls all around and tries to talk louder than me, but it's still pretty effective.
Read while driving.
I am a huge advocate of audiobooks. We live 45 minutes from his pediatrician and 45 minutes from Trader Joe's. We are usually 15-30 minutes from play dates. This is how I get in a chapter or two at a time. I especially like listening to non-fiction books on audio. And sometimes I will play them on the speakers for my son to hear too, but more often, I will have my headphones on because he's asleep.
Read while working out.
Once again, audiobooks are how I manage this. If we go for a run, I like to listen to my current book. I won't be talking to him anyway because I'd be breathing too hard. I can get in a chapter or two and I usually tell him all about it when we stop and stretch.
In a few more months, I'll probably start going back to the gym. Even before having a child, I would always read on my Kindle while working out on the elliptical, the bike, the treadmill, and even while I do weight machines. Now that we have a little one, it will be that much more important that I kill two birds with one stone.
Read before sleep.
I will occasionally read at night, but I usually use the time after my little one is asleep to cook, talk to my husband, work on my online classes, and write for my blog. If all of that is taken care of, then picking up my book for 30 minutes to an hour is a treat before I fall asleep. I'm so thankful for his sleep schedule now. Before we sleep trained him at six months, he would wake up every 45 minutes, and I did whatever I could to sleep for 15 minutes between these wake ups. I was barely a functioning person, let alone delighting in books the way I can now.
---
Perhaps a lot of this is common sense.
If you are a new mom, it might help you to know it takes time to figure it out and find what works for you. Have faith!
If you are a veteran mom with more than one child, I have no idea if this would help because I am not in that season just yet. Stay tuned!
If you are a husband, be gracious with your wife as she figures out how to reconcile where God called her in her former life with where He's called her now. It's not easy!
---
So tell me, what am I missing? How do you sneak in a few pages here and there? I'll take any tips I can get!