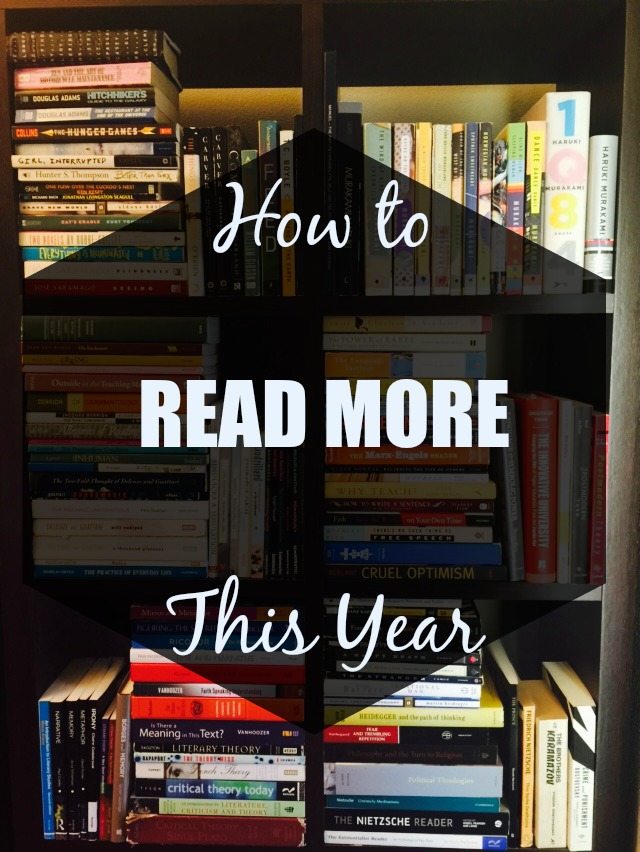 It's true. If you're a reader, you have probably given into temptation to look over a list of 100 books created by who knows just to dust off your shoulder after learning you've read a good portion of them. Admittedly, I always fail at these lists because the titles I choose are pretty obscure. Now I make my own lists, which brings me to my next tip for reading more this year: Make a book list. Have a running list for books you want to read and constantly update them as each new book plays leap frog to get to the front of the line and steal your attention.
I break my books up into the following categories for my running list:
Fiction (classics, contemporary, course-related reading)
Professional development (writing, editing, teaching, rhetoric)
Spiritual growth (theology, culture, marriage, parenting)
Theory (literary criticism, critical theory, philosophy)
Misc. Nonfiction (leadership, economics, time management, biography, history)
Out of the 8 books I try to read a month, I like to read 1 or 2 from each category. I am a fan of balance and somehow this keeps me sane.
When I get close to the end of a book or decide I want to finish my current crop of 5-6 books, I apply Dave Ramsey's debt buster system to reading. Basically I will ride the momentum with the debt I am closest to paying off or the book I am closest to finishing. Time builds the snowball of momentum instead of money in this analogy. With more free time the following day, I can tackle the next book that I am closest to finishing. Instead of immediately picking up another book from the list, this method helps me pay off my reading debts quicker.
I have a long list of to-be-read books and love reworking it at the beginning of every month in a super nerdy kind of way. The list always changes, but it gets me started and keeps me excited about reading. For some people, lists can be intimidating, so tell me: do lists help or hurt your reading pursuits?