It is my absolute pleasure to introduce you to my friend, Alicia. I've known her and her awesome husband for over 15 years. They have three beautiful daughters and make it look easy. She recently launched a hilarious and honest blog about motherhood that is oh-so-appropriately titled: Mother Stressor: Stressed, But Still Smiling that has an online book club built-in and is designed to encourage other moms to put their trust in God. I am always laughing and always encouraged, so be sure to check it out.
Here she is to tell you a little about how it all came to be.  
---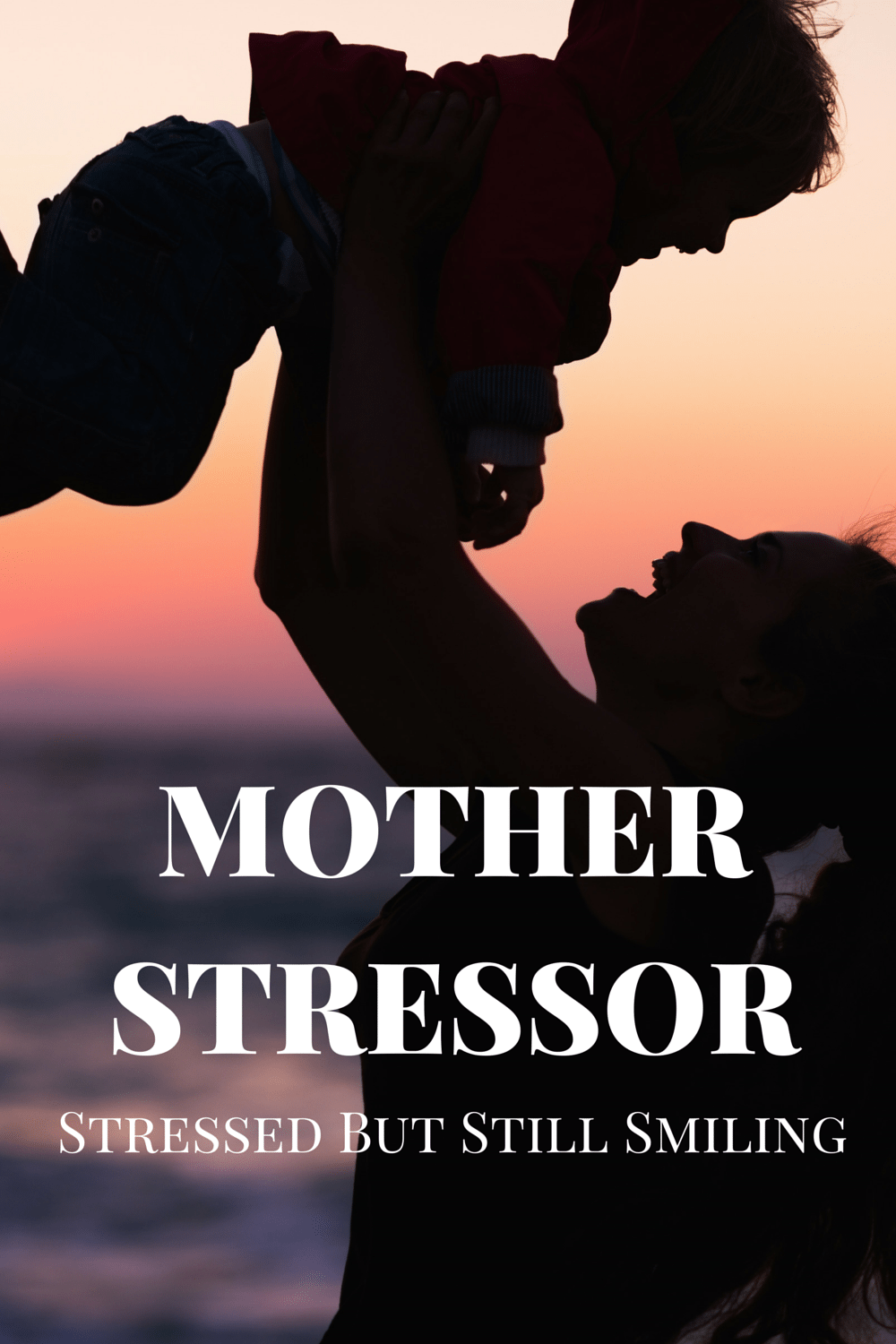 Four or five years ago, I was a single, working mom of two, trying to balance all aspects of my hectic life. After going through ups and downs and experiencing all sorts of joy and heartache, I realized that what I needed most to help achieve balance was a strong relationship with God. I was involved in my church, but I needed more. I offered to host a weekly small group Bible study in my home, and our "Twenty-Something Women's Group" began. I loved it! Not only did it give me motivation to keep my house clean for our Wednesday night meetings, but it introduced me to a group of amazing, supportive, Christ-loving women, and allowed us to dive into books and discussions wholeheartedly.
Unfortunately, life happened, and between getting a promotion at work (which meant longer hours), two kids in school, and then heading back to school myself, I was no longer able to host our group at my house, and soon I even stopped attending meetings. Now, I am no longer a twenty-something and am married with three kids, a job, still going to school, and have to hide out in the bathroom just to read a chapter of whatever book I am desperately trying to complete.
I know that life gets crazy and busy, but that's the point, right? If life were boring… I'd be so…bored! (Sometimes I wish I was bored, I'm not going to lie.) But as I've grown, laughed, cried, mothered, etc., I've realized how important it is to continue to nourish my own heart, mind and soul. I get stressed out, which is something I so very much want to fix about myself. In an effort to do things for myself, that I enjoy, and that belong to me and not so much to my three children (who own basically every inch of me, which is okay, because I love them), I started writing my blog, Mother Stressor. 
I use it as an outlet to share my highs and lows of motherhood, to make light of the stressful and dark times (and there are plenty of those), and to reach out to others in hopes of showing them that we are not alone in the stressed out moments of life. We are not even alone in the moments that aren't even that stressful, but stress us out to the max anyway. Not only are we not alone in these moments, but we can find ways to overcome reacting to stress, anger, anxiety and frustration in ways that can lead to feelings of shame and regret.
I tend to try to find the humor in all things, as well as find God in all things. I believe that if we can laugh and/or pray (both would be ideal) in a weak moment, we can find the strength to get through the obstacle in front of us with dignity and grace. It's not always easy, trust me. I continue to stress out and lose my cool with my kids, or my dog, or cat, or the inanimate object that was left on the stairs that I stepped on and almost Humpty Dumpty'ed all the way down, and so I know that I need help in conquering the "momster" moments. I am constantly praying for strength, patience, kindness, peace, etc., and then still having to pray for forgiveness after I've let my stress get the best of me. But I am a work in progress, and it is because of my faith that I know I will get better.
When Jessica asked me to guest post on her (awesome!!) blog, I was so excited and honored, because I truly admire her. Not only is she a book lover and a great writer, but she is a loving wife and mother, woman of faith, and a teacher! I am going to school to become a teacher as well, so I am literally in awe of every teacher I know. I truly value women who inspire me, and I know how important it is to have people in life who you can look up to and learn from.This brings me back to the Wednesday night Bible studies when I would sit around in a circle with that group of women, praying, chatting, reading, laughing and crying together. Learning together. Growing together.

For where two or three gather in my name, I am there with them. Matthew 18:20
I miss being a part of that group. I miss knowing that if I was going through something difficult, I had a safe place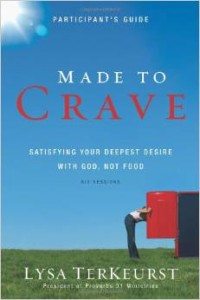 where I was surrounded by amazing women, who would listen and speak to me with good and faithful intentions. Because of my family's schedule, it's just not possible for me to commit to a book club like that at this time. So,that is why a friend of mine (Jen, who was also a part of the TwentySomethings Women group) decided to start up an Online Book Club. We hosted the first book, Made to Crave by Lysa TerKeurst, a couple months ago, and I loved it so much!

The Online Book Club is completely online and flexible, so it fits well with our busy mom (and life in general) schedules. We post discussion questions in the beginning of the week for the assigned chapters, and then the discussion is held loosely throughout the next weekend. We set up a private Facebook group, so we still have that safe and private environment which allows us all to feel comfortable and able to open up and share our thoughts, feelings, and experiences that pertain to the book.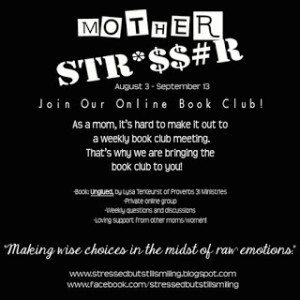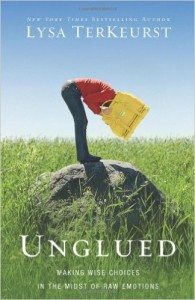 We are getting ready to start our next book, Unglued by Lysa TerKeurst (she's my favorite!). This book is already touching my heart so much… I have basically highlighted every single page! It's all about "making wise choices in the midst of raw emotions." I can't wait to start the group and dive in together and find ways to help us hold it together when we would normally become unglued.
If you are interested in joining the Book Club, which starts August 3, you can read the details here, and let me know that you'd like to be added to the Facebook group. I'd love for you to join us on this journey to finding peace through faith.
---
You can find Alicia's blog here. 
You can like Stressed, But Still Smiling on Facebook here. 
You can follow Alicia on Instagram here.