Bam is a month old today. I am just starting to emerge from that exhausted, brain-dead haze that comes with being a new mom. Everyone keeps asking me if Bam's a good sleeper or if my labor was long or if he cries a lot. These might just be social niceties and the kind of question you ask a new mom, but I just keep saying I don't know. I have nothing to compare him to. He wakes up and wants to eat every 2-3 hours. Is that normal? It took me the whole weekend to give birth. Is that normal? He cries when he's hungry, tired, wet his diaper, and sometimes just because. Is that normal? In the end, normal doesn't matter, but I will admit I am mightily impressed with every woman I know who has blazed this trail ahead of me. I had no idea what women go through to get to the little bundle of joy. That being said, if you are a mom reading this, you need to start owning up to how hard this whole thing is.
So as a result of never having done this before, I registered for this book, Slow and Steady Get Me Ready: The How to Book That Grows With Your Child at the recommendation of a fantastic book on Classical Education at Home. My friend Kristy bought it for me and Bruce and I immediately got started. This book contains activities for the first five years of your little one's life. The first month was fairly simple, but it's so fantastic to see Bam's mind developing. I love how this book tells you exactly what skills each activity helps develop in your little one.
Week 1: Move the Body Parts

Week 2: Responding to Light
Week 3: Moving an Object
Week 4: Make a Cradle Gym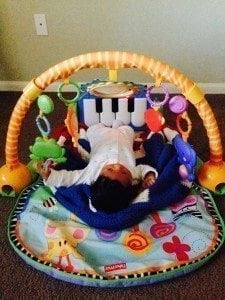 Bam is changing quick. He recognized our voices right away, and as of this week, we are confident he recognizes our faces. It's amazing to watch him grow. Stay tuned for month 2 and if you have an infant around, consider getting your hands on a copy of this book.