Women and Work: The Measure of Success in Home and Family Lives
Deprived of meaningful work, men and women lose their reason for existence; they go stark, raving mad.

~Fyodor Dostoevsky
---
By Jessica S. Manuel
What's wrong with women working? Nothing. There is something deeply wrong with the way women judge the decisions of other women when it comes to staying home or working. Every situation is different, and we need to be secure in our own choices and support others in theirs.
The Measure of Success: Uncovering the Biblical Perspective on Women, Work, and the Home is coauthored by Carolyn McCulley and Nora Stark. These ladies set out to help women of all ages and every work situation come to see their role in the public and private sphere in light of what God says about women and work.
Work is done both inside and outside the home, and they are careful to respect both paths.
They seek to break down some widespread misunderstandings through their first section that covers the history of work in relation to women. Kate Luther and Sarah Edwards, the wives of Martin Luther and Jonathan Edwards, are discussed as case studies who embody the kind of work ethic that characterized women of history.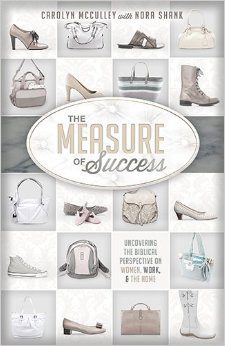 The most notable difference between these women and the modern woman is that they set out to serve souls in their home instead of pursuing an artificial mask of domesticity. This pursuit was not widespread until the mid-1800s as a result of the industrial revolution and more men taking jobs in factories. Women tried to keep the home a place that inspired rest and enabled the family to thrive in the community.
The next section is a theology of women and work as identified through scripture. God has a great deal to say regarding women in leadership roles and the workforce. The authors argue that while those roles aren't intended for the home or the church, they are often used by God in areas of business and the community. An entire chapter is spent discussing the importance of ambition and how God will continue to use women in various areas, including the home, workforce, and community, as long as they are faithful to cultivate the talents and gifts He provides.
Lastly, the final section has a chapter for women of each age range. Each category of women could learn what it takes a lifetime of work experience to understand.
The 20-something will pick up a lot of tips that center around the idea that their work is less about them and more about the organization. As a result, they should not take criticism personally because simply put, it's not personal. I suspect this is a difficult concept to grasp for the overly sensitive woman.
The woman who steps away from work to raise kids is addressed in another chapter that discusses the value of training up children and the importance of this season.
There is a whole chapter devoted to the open nest (not empty nest) woman who seeks to reenter the community and find her place volunteering her time or rejoining the work force after her children are grown.
In each chapter, there is important emphasis placed on both single and married women. It does not assume every reader fits into a cookie cutter mold, which I really appreciate.
This book is important and timely in the midst of so many cultural misunderstandings regarding women and work. These authors teach women to respect any choice or circumstance they see others in while they thrive in their own.