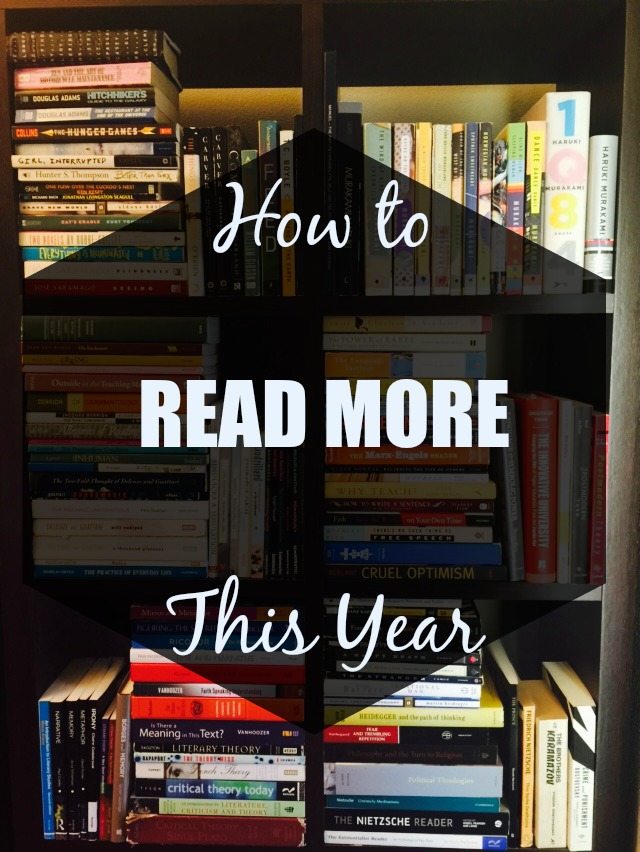 It's time to get a fat brain. The best way to do this is by following my next piece of advice for reading more this year: Read more than one book at a time.

You might be wondering how a scattered mind and attention span will help you succeed in reading more instead of increasing your focus and reading one book at a time. Everyone is different, but if you are a product of this media generation, and if you are reading this blog, you probably are, then you are probably more skilled at task shifting (since multitasking is a myth) than you are at accomplishing long projects.
Channel that kind of behavior to reading and you have a recipe for devouring multiple books at a time to keep yourself interested and constantly learning.
If you checked out the last post on book lists, then you know I pick books from different categories to read in a single month. What I did not mention is that I read between 3-5 of them at a time. For me, this works best with non-fiction, so allow me to explain.
I typically wake up and read 1 or 2 books on spiritual growth. This is a sort of catch-all category that includes anything relating to God that will help me know and love Him better.
In addition, I usually have 1 or 2 non-fiction, non-spiritual books that I am reading. These usually relate to culture, the mind, or professional development in some way. I often listen to these kinds of books on audio, which limits the actual time that is required to stare at the pages of a book.
From each of these books, I shoot to read at least one chapter a day. Now that doesn't seem too overwhelming, does it?
The majority of my pages (100 a day is my goal-read my book goals if you missed them) come from reading fiction. While I read one chapter a day from the other books, I will read until my heart's content from whatever work of fiction I am devouring at the time. I never read more than one work of fiction at a time. I don't know about you, but my imagination gets overwhelmed enough with suspending disbelief and making new friends with the characters in just one story. To try to do that with multiple stories at a time is crazy talk.
So if you initially thought 100 pages a day is outrageous, then this should help explain how it's accomplished. It breaks down to about 50 pages of non-fiction reading and 50 pages of fiction. It's sometimes more than this depending on the time I have available and how good the story is or how long the drive is if I am listening to a book. So there you have it, make your brain fat by reading more than one book at a time.