"When I open them, most of the books have the smell of an earlier time leaking out between the pages–a special odor of the knowledge and emotions that for ages have been calmly resting between the covers."

Haruki Murakami, Kafka on the Shore
Murakami is one of the most popular and respected contemporary authors still writing. If you are interested in finding out why, but you don't know where to start, and where to go after you first dig in, this post will break it down for you.
I teach literature and writing courses at the college level and always try to include one of Murakami's novels or short stories into my syllabus when teaching. My larger goal for these courses is not necessarily about Murakami but my desire for my students to increase or reignite their passion for reading. One taste of Murakami and my students are hooked. After that first exposure, they almost always ask what to read next. And even though you can't really go wrong, I will suggest what I think would work best for most readers. Each of his novels stand alone, but some work together quite well. Those groups of novels I have listed are what I like to see read in the same general time frame.
---
SURREALIST NOVELS
These five are my favorite works of Haruki Murakami because of the way they deal with the unconscious. In each work, the lives of the characters are completely altered because of dreams, memories, nostalgia, or other manifestations of the unconscious. It reminds the reader how powerful the mind is, and I've remained convinced of this since my first reading of Hard-Boiled Wonderland and the End of the World. That is why I suggest friends and students start with this novel, which I explain briefly in this post.

I never suggest readers start with The Wind-Up Bird Chronicle. I consider it the most complex and best novel Murakami has written. If readers are not used to his writing style and alternating narratives, it would be pretty challenging to adapt in such a dense text. If you are a reader who likes when authors take risks and switch up narrative styles, then beginning here should not bother you.
Keep in mind this is only a suggestion, but I recommend reading these 5 books in the following order:
1. Hard-Boiled Wonderland and the End of the World
2. Kafka on the Shore
3. 1Q84
4. The Wind Up Bird Chronicle
5. After Dark
---
REAL(ISH) NOVELS
Colorless Tsukuru Tazaki and His Years of Pilgrimage, which I have listed below, places Murakami's thoughts on the unconscious in real circumstances. I shared a recent interview with the Japan Times on Book Oblivion's Facebook page in which Murakami admits to this pursuit of the unconscious: "When I write a novel, I place more importance on the subconscious world than the conscious world. The conscious world is the world of logic. What I'm pursuing is the world beneath logic." I have argued for this reading of his novels for almost a decade, so hearing him say it felt completely gratifying.
These next four books are powerful in their subtleties. They do not deviate completely from the unconscious explorations of the previously mentioned novels, but most of their narratives take place in what we call reality (in fiction). I've taught through Norwegian Wood a few times and despite the awkward sex scenes, it sparks many insightful discussions. I actually don't necessarily recommend reading these novels back to back, although you can. When reading his other works, pepper in these novels when you want a quicker, more grounded Murakami experience. These tend to read faster than the others, and they do not operate in the realm of fantasy. 

1. Norwegian Wood
2. Sputnik Sweetheart
3. South of the Border, West of the Sun
4. Colorless Tsukuru Tazaki and His Years of Pilgrimage
---
THE RAT TRILOGY + DANCE, DANCE, DANCE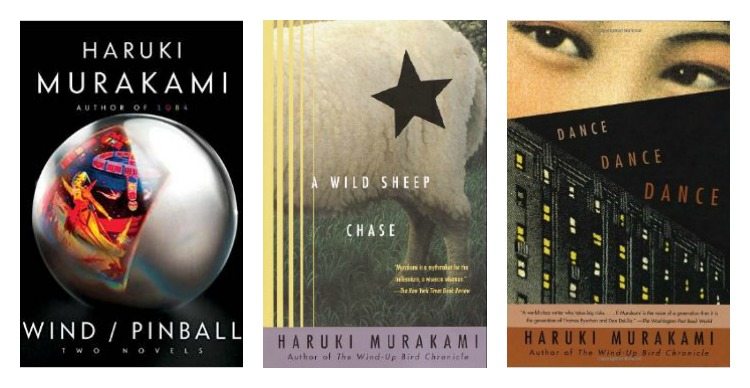 Finally, the rat trilogy and Dance, Dance, Dance are the last novels to consider. I have yet to set my eyes on Hear the Wind Sing or Pinball, 1973, but you can preorder this beautiful edition of Wind / Pinballthat will be out in August. I'm pretty excited about this. It will complete my Murakami collection, plus I get to see what launched Murakami's writing career. Dance, Dance, Dance is a kind of sequel to A Wild Sheep Chase. I happened to read DDD first, and I don't think you miss too much by not having read AWSC prior. Nonetheless, if I could go back and do it again, I'd read them in the following order:
1. Hear the Wind Sing
2. Pinball, 1973
3. A Wild Sheep Case
4. Dance, Dance, Dance
---
SHORT FICTION
So that brings us to his short story collections. I teach short fiction as well, and it's my second favorite literary form. Murakami's stories are some of the strangest I've read. I attended an event at Berkeley in 2008 where Murakami was interviewed and then read one of his short stories, "The Rise and Fall of Sharpie Cakes," aloud. It was incredible. This story is in his collection Blind Willow, Sleeping Woman. Many of his shorter works get reworked in his novels. Sometimes it feels like his fictitious worlds bleed together, and it's only a matter of time before they bleed into your own.

His newest short story, "The Strange Library," was released as a graphic novel. You'll never look at libraries the same. And weird just doesn't cut it anymore when you need to describe his work. Actually, that goes for all of his short stories. Read these in any order at all. Each story stands alone just like the collection it is a part of. 
---
NON-FICTION
Last, but not least, we have his nonfiction works. His book on running, What I Talk About When I Talk About Running, is just as much about the craft of writing as it is about running. A few of his novels work writing into the mix as well. After reading so much of him, the nonfiction is refreshing because we learn more about the man behind the madness. In Underground: The Tokyo Gas Attack and the Japanese Psyche, you understand how deeply affected Japan was by the terrorist attacks through the eyes of some of the victims and members of the cult responsible for the gas attack.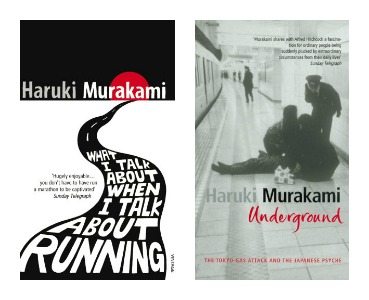 Murakami has written a great deal more than this, but these are the main hitters published in English. And if you missed it, here is one of his short stories, Scheherazade, available from The New Yorker. 
Happy reading! And if you have a minute, I'd love to hear your Murakami reading experience, whether it's good, bad, or ugly.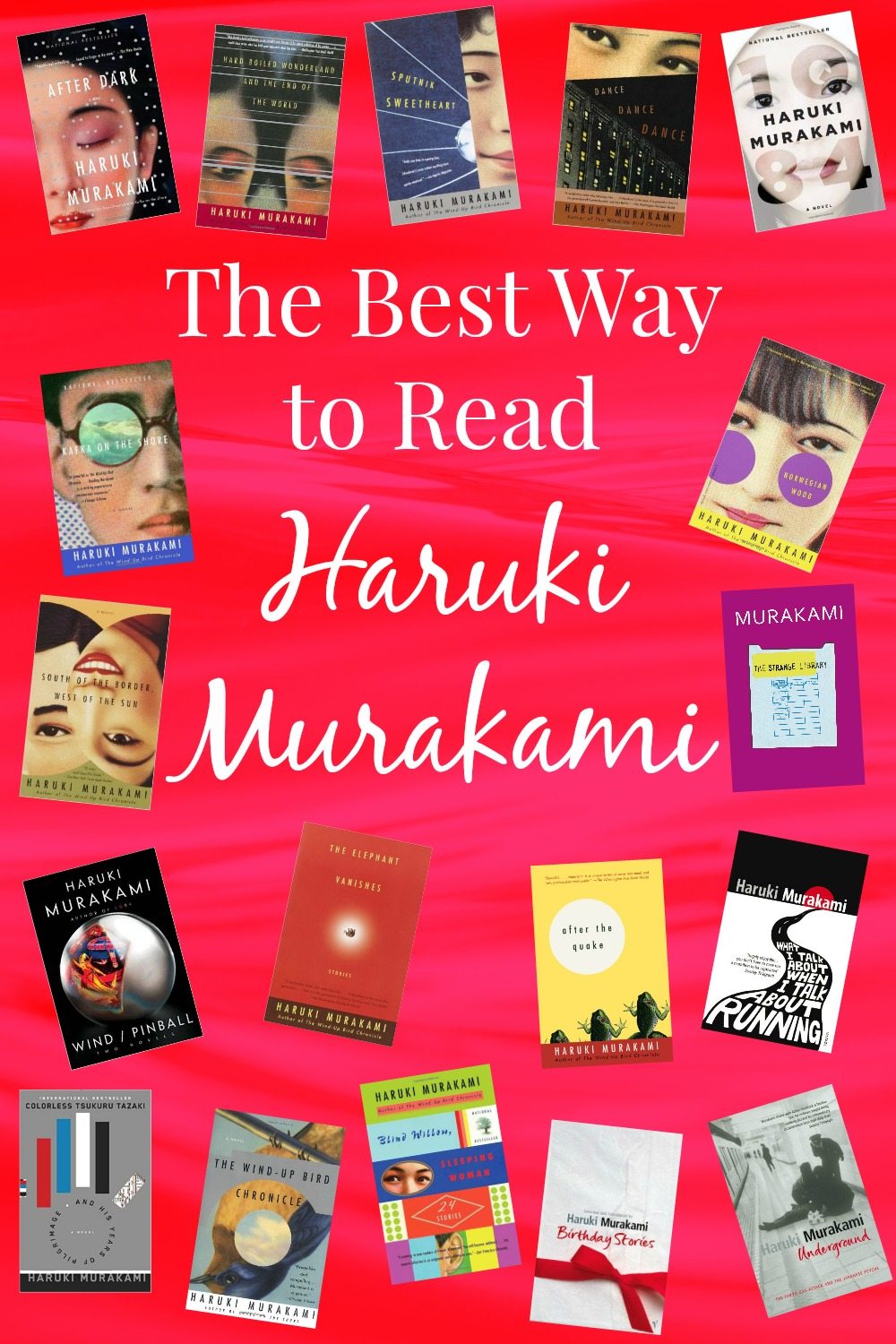 Join Now
Join our newsletter to find out more about our Reading Beyond Murakami courses and reading group.